OK, so I admit that for many of our readers, the title of this post will not make a great deal of sense. The term, and the discipline of "Growth Hacking" is a relatively new one, and has yet to permeate the consciousness of many business owners - especially those outside of the tech startup world. You see, the process applies most traditionally with those internet businesses that require huge take-up and registrations on their site, followed by high retention and loyalty towards the product. Growth hacking deals with a number of issues - most notably the difficulty surrounding attracting huge levels of traffic, sign-ups, and referrals, so as to ensure the success and longevity of what is usually a front-loaded and high-risk investment opportunity.
So what is growth hacking? In a nutshell ( which is how I assume you would want it), it relates to the continuous testing and optimisation of 4 stages of the online business model - Acquisition, Activation, Retention and Revenue - with a fifth stage being Referral; a continuous feeding of users, via recommendation, back into the Acquisition stage. It looks something like this: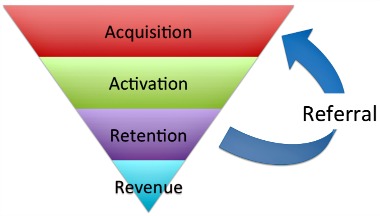 At every stage of the process, there's an associated conversion rate - the percentage of "users" who proceed from one stage to the next. The object of growth hacking is to continuously test new ways to improve the conversion rate at each step. This is done using analytics and a sequence of changes, designed to try and "beat the control" - which is to create new web pages, copy, layouts, call to action, etc. that offer a greater opportunity for the user, and hence gain loyalty and action.
So how can this relate to a B2B service-based business? Well, the principals are the same, whatever the industry or business type. If you accept that your website is an integral part of the marketability and discoverability of your business, then you can apply the same rules. You don't need to transact with users on your site, so long as you can attribute a value to the actions your users take. For example, do you know what an enquiry via your contact form is worth to your business (calculated by the number of enquiries that convert to business, multiplied by the average purchase value)? Is there a concept of subscribers on your site? What can you do to improve loyalty, through opting in to your email database, and reminding your "users" that you're still there?
Regardless of how it's done, every B2B business should be continuously improving their proposition, and especially online. Optimisation is key to success - growth businesses do not accept their current levels of enquiries and sales opportunities as being the best they can achieve. The businesses that attract increasing levels of traffic, and back this up with a culture of testing and refinement of their online presence, are the ones that will enjoy the greatest growth in the months and years to come. How do I know? The process guarantees itself!
Want to know more about Growth Hacking and the B2B opportunity? Contact Influence Agents to discuss further.